With the addition of our Show Room at 109 Atlantic Ave. we've got lots of great new products in the shop. Here are some insider points and tips from the people who use the gear all the time, our staff!
Chris suggests: Chrome Citizen Buckle Bag
I've had a Chrome messenger bag for two years now and I am thoroughly pleased. Everyone first notices the seat belt buckle on the strap, but there is way more to the bag then that. Designed for cyclists, the strap and shape of the bag compliment your body's form when cycling around town. The bag also has an inner rubber lining making it waterproof which is absolutely necessarily when you are riding around town with your laptop, clothes, books, rare baseball cards, Egyptian artifacts. These bags are made in the US and they are built tough. Mine has survived mud, snow, and falling out of my third story window. Go for the gold standard and get a Chrome.
Len's Favorites: Surly Long Haul Trucker
Great bang for the buck! This is an excellent touring bike with a good quality chromoly frame/fork and components – XT hubs; 36 spoke hole rims. Great gear selection for hills and underload. Try it, you'll like it….keep on truckin' down the road ahead!
Shimano pedal combination PD – A530 – platform and SPD cleat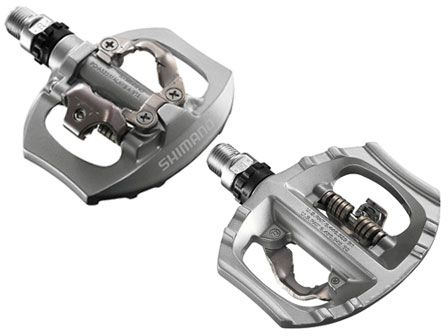 Very convenient if you ride alternately with cleated/non-cleated shoes. Whichever side you are using stay pointed to the sky. Just don't try using both sides at the same time!
Park "Campagnolo" compatible chain tool CT-4.2
Their price cheap relative to the $200 masterwork offered by Campy. The real rub is component makers creating proprietary hardware that cannot be easily serviced in most areas of the planet!
14 responses to "Today's Product Corner"